Our days are filled with harvesting and trying to still squeeze in other necessary tasks (like buttoning up the hoop house for freezing temps! and getting to important office work!) Although the drought has taken a bit of the brightness out of September, it does make for easy harvest.  The plants are less dirty which, most importantly, means we are leaving more soil in the fields rather than washing it off and losing it.  It also means getting the tractor and truck through the fields is less damaging to the soil structure and we will not get stuck – which may or may not have happened in the past ?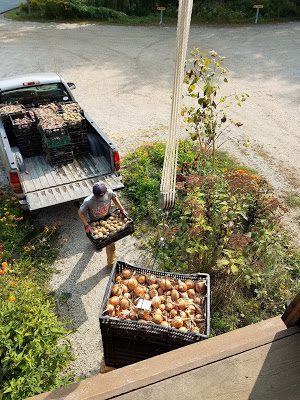 I was worried this year's onions were going to be small due to lack of rain but they sized up nice and will store beautifully.  My dad helped build this pulley system allowing us to cure crops in the upstairs of the barn.  Thanks to him and Archimedes, we brought in over 2000lbs last week and hoisted them up to the barn loft with very little effort.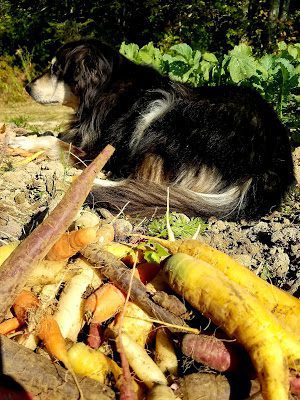 Simon helped harvest rainbow carrots yesterday.  They are the first of the fall and winter storage carrots we have harvested and they look great.  Generally by now we have pulled out about half the storage carrots and delivered them to the food bank (we have a contract with them) but we have been so busy with fresh harvest, we have not had time.  The weekend brought a killing frost and so nature has taken care of the cold sensitive crops (I was sad to say goodbye to the still gorgeous basil and flowers), so now we will move on to the storage and root crops.  Hoping 20 degree nights hold off for a bit longer!
This Week's Bounty: lettuce, celery, carrots, beets, broccoli, tomato, onion, peppers…