What color!  And flavor! If you are shy about beets, maybe give them another try.  They are sweet and yes, earthy, but that is what makes them so good for you; earth minerals washing away stress and packed with vitamins, you can FEEL them making your body happy.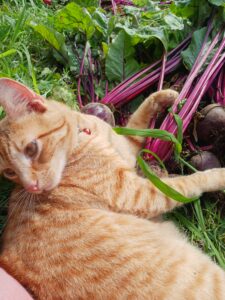 Last week we harvested, washed and packed 500lbs of beets for The Good Shepherd Food Bank.  Alvin and Benny helped of course.  An amazing program, Mainers Feeding Mainers, helps this supply chain.  This state and donations funded program allows for the guaranteed availability of fresh produce for those in need.  It also allows for the farmer to be paid for their products, allowing them to grow and deliver high quality produce for the program year after year.  We are contracted for beets, turnips and carrots.  We always donate beyond our contract but the contract helps pay for labor….Alvin asks for a steep wage.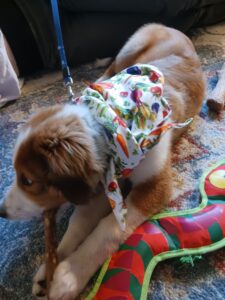 Benny boy had a fun weekend with his nieces and aunt and uncle (my brother and his family came to visit).  My sister-in-law made him a veggie bandanna–his farm greeter uniform : ) He also went for his first swim!  A natural, but a bit timid.  We are working on training and ask for your help.  If he jumps on you, please slowly move your hands out of reach and turn your body away from him.  When petting him (especially kids), pat his chest rather than his head; this helps to keep him from jumping and nibbling.  He is a soft and wiggly piranha!
This Week's Bounty: golden beets with greens, celery, scallions, fennel bulb, pac choi, beans! cukes! zukes! summer squash! basil, dill, cilantro