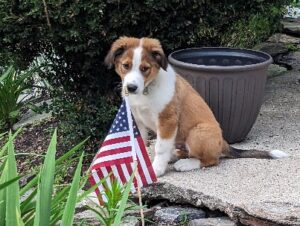 Benny's first 4th of July was his best day ever.  (Actually, I think every day is the best day ever for a dog.)  He had 3 doggie friends to romp with, plates to lick clean, cool nap spots and fun new sounds.  He is fitting in quite nicely and last night Alvin snuggled on one side and Benny the other — yay!  (Full disclosure there were a couple minutes of him wanting to chew on Alvin, but then it passed : )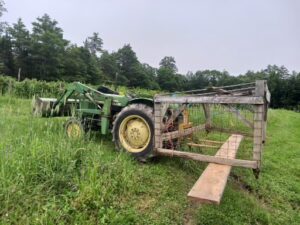 Tiny house moving!  For the pigs that is : )  We decided to move a hut from the back field into the front field instead of trying to move through the slop for their current hut.  It worked quite well, although with one casualty … John got stung 3 times by wasps!!  He bravely kept going and luckily did not swell up even one bit–phew.  Be sure to visit the pigs in their new home — just next door to their current one, but much greener.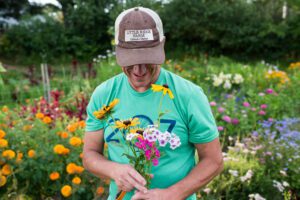 And now for the news you all have been waiting for — PYO garden is open for LIGHT picking.  5 flowers per person this week — please do not cut too low : )
ICE CREAM for LACO this week
Eat your way to helping your neighbors!
Maine Flavor ice cream sandwiches and Big Dipper Cones
Proceeds go to our local food bank
This Week's Bounty: lettuce, fennel bulb, broccoli/snap peas(?), hakurei turnip, summer squash/zucchini, garlic scapes, basil